Knowledge Sessions, In Addition To Business And Networking, Score High Among 2017 Delegates' Event Experience
Knowledge Sessions, In Addition To Business And Networking, Score High Among 2017 Delegates' Event Experience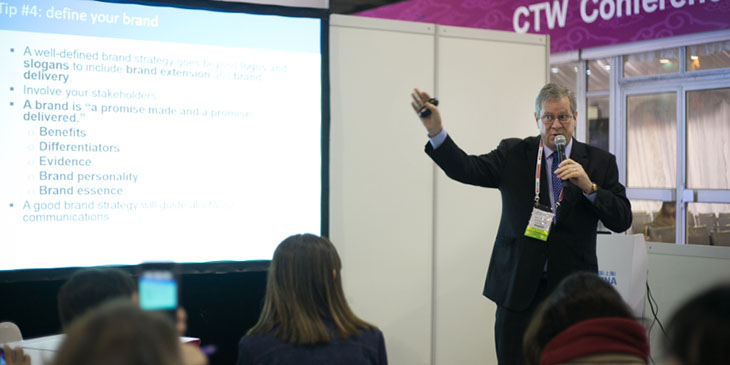 Knowledge building and education has continually been on the forefront of the IT&CM China programme, and reviews by delegates indicate this to be among the year's high points.
Association Buyers found the 4 dedicated Association Days Forum topics on challenging times for association meetings; global vs local trends; second wave cities; and a how-to on selecting the right destination; relevant and on-point.
Association buyer, Paul Zhai, Marketing Executive for The Centre for Association Leadership (ASAE), "Attending the association day forums at IT&CM China provided solutions from an event organiser perspective and insights on how to deal with international issues. I aim to meet more associations that organise international events to understand how domestic associations run events with the same global standards."
Association delegate and speaker, Ella Zhou, Deputy General Manager, Spring International, "As an association professional, being at events like IT&CM China allows me to garner precise information about a destination's convention capacity as well as assess the compatibility of our association's event agenda to the economic priorities of its government. Finding new partners and collaborators is also a big plus."
IT&CM China's keynote speaker and moderator, GainingEdge's CEO Gary Grimmer 3-part MICE Clinic under the campfire knowledge sessions were especially created to inspire the industry to elevate and achieve higher performance levels.
Grimmer, "We're happy to be able to give helpful advice to the attendees at IT&CM China this year in terms of how to be more successful at trade shows and how to make convention bureaus more successful for those who are considering to do so. In addition, we've planned a campfire session on the topic of convention centre development because we know that plenty of delegates are considering this and they will get how-to advice on the various things they will need to consider."
Topics on Creating Value in B2B Digital Communications, Understanding Corporate Travel in China and How to Increase User Engagement & Experience through Mobile Innovation were also featured in this year's knowledge line-up. Social engagement platform providers, UpNixt, presented the latter and delved into the use of technology for event organisers to leverage on to further enhance participant experience and to better connect with attendees event needs and desires.
Elaborated Desmond Phua, Founder and CMOO of the social engagement platform, "UpNixt is the social to-do list for places to go. For an event like IT&CM China, event organisers can make use of our platform to put together a list of recommended business, education, networking functions at the event while also slotting in points of interest around the destination using the 'GoList' to be able to add to the experience outside of the event as well."
Further, with over 14,000 business appointments concluded and fulfilling networking goals achieved over 2 days, satisfaction level of IT&CM China 2017 delegates are at an all-time high.
International Exhibitor, Lily Su, Deputy Executive Director, MEET TAIWAN, "2017's IT&CM China has allowed us meet more targeted buyers from the Asia region, the profile that we have been aiming for. MEET TAIWAN is glad to be a part of the show this year."
Domestic Exhibitor, Tina Gan, M.I.C.E. Department, Hangzhou Tourism Commission, "We are delighted to be able to leverage on the IT&CM China post-show tour opportunity to draw international buyers to Hangzhou with the support of the organisers who helped us reach out to a targeted group of buyers. We hope that through this familiarisation trip, buyers will get to benefit from the resources that Hangzhou can offer to their next event.
International Association Buyer, Franco Viviani, President, International Council for Physical Activity and Fitness Research (ICPAFR), "IT&CM China is just the right size for conducive business sourcing and networking. I appreciated the fact that the show was organised very well organised both in quality and quantity of exhibitors."
Charley Sun, Project Manager, Merisis Consulting Company, "As a meeting planner, being able to discover new destinations and hotel venues here enable me to achieve my planning objectives for the next year or the next 6 months. I also learnt new trends, new deals and the kind of government support that the various destinations can provide."
Grahame Cox, General Manager, Savage Communications, "IT&CM China is probably the only exhibition in China that you can find so many experts right across the MICE space. For a journalist this means that we can get first-hand information from the experts and it is the only exhibition that can give you that resource."
For more information on IT&CM China, visit www.itcmchina.com