The Land of Legends theme park offered complimentary to the guests of the Regnum Carya Golf & Spa Resort
The Land of Legends theme park offered complimentary to the guests of the Regnum Carya Golf & Spa Resort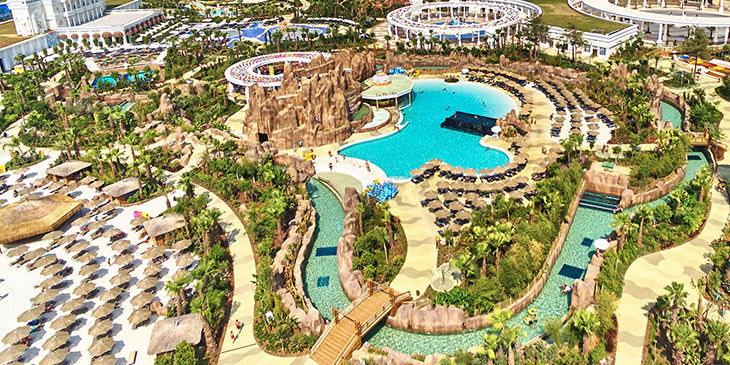 The Regnum Carya Golf & Spa Resort, an amazing and immense top event and holiday location. It is situated on one million square metres surrounded by the pine trees of the Carya Golf Club in the midst of the beautiful geography of the Mediterranean. Regnum now provides its guests with a one-of-a-kind offer: the complimentary access to all the attractions of the Land of Legends theme park, just a few km away.
A unique concept that seamlessly blends all aspects of a vacation, Land of Legends caters to every traveller, presenting a spectacularly curated series of luxury, lifestyle and entertainment experiences.
The park
Custom-designed to reflect the tales that have inspired the experiences at the parks, it is situated 27 km from Antalya International Airport, and 30 km from Antalya City Centre.
In its four restaurants a talented team of chefs from around the world come together to create culinary delights from Italy, South America, Europe and beyond.
Boasting a scenic setting that's infused with thrill and entertainment, Legend of Aqua within the park presents a selection of both adrenaline-pumping rides and relaxed explorations. Electrifying rides, speedy slides, a lazy river and more await at this unique destination.
Among the hundreds of attractions are a wave pool along a white sand beach, a surf pool, a water park of white sandy beaches and swaying palm trees. In addition, there is a marine zone which is home to thousands of the most beautiful creatures of the Mediterranean Sea including tropical fish, dolphins and sharks for underwater safari, white whales and walruses during the water show and a "Swim with the dolphin experience".
There is also the Legends Tower, a magical structure reaching a height of 111 metres and offering visitors the chance to gaze out at the surroundings from either the upper observation deck at 60 metres high, or the lower deck at 42 metres.
The park, which is also a luxury shopping destination, has a Spa providing a serene and truly unforgettable experience of pure pampering and relaxation, using holistic therapies and massages that combine the very best of Eastern and Western practices.
The Regnum Carya Golf & Spa Resort -This special venue is a relatively new international luxurious resort which offers unique service at unbeatable standards in the region. The hotel featuring 1,200 beds in total, offers ten different room types with 538 rooms, plus 13 stunning villas ranging from the golf room by pool to the huge and hyper-luxurious Crown Villa. An elegant journey of pleasure is waiting for guests with restaurants that combine different gourmet cuisines with the local and exotic flavours of Turkish specialties. Moreover, as many as 11 bars and 4 snack bars are available.
The state-of-the-art convention centre consists of 7,500 sq m on two floors, a separate reception, a vehicle exhibition area at the entrance for vehicle launching, a 1,200 sq m foyer at the breakout rooms floor, a 2,100 sq m column-free main meeting room, a 750 sq m foyer in front of the column-free main meeting room, a 1,000 sq m column-free parallel meeting room, 7 breakout rooms as well as 1,000 sq m outdoor area where gala and special events can be held.
This gorgeous offer is completed by the Greendoor Spa & Wellness, a 90 m long relax pool (which is heated during winter), a 1,500 sq m family pool and a 1,500 sq m wave pool. There is also a 7,500 sq m aqua park, a beautiful private beach of white sand and one of the "Top 100" golf clubs in the world. There is so much freedom to explore and enjoy at the resort.
Regnum Carya Golf & Spa Resort
Kadriye Bölgesi
Üçkum Tepesi Mevki Belek
Antalya – Turkey
Tel +90 242 7103434
Fax +90 242 7103400
Email: info@regnumhotels.com
www.regnumhotels.com